Rob & Christine Elliott-Kiesznowski Tori Meacham
We are the Elliott-Kiesnowski Family from Upstate Central New York. I, myself was formally known as Christine Elliott-Meacham for almost 18 years. I have since remarried, hence the name change.
We are located near of Syracuse, New York. My family and I have had animals of all types in our lives from early childhood on. My children, Austin and Tori Meacham were raised around horses and dogs and just about anything that was brought home all their lives as well! Living on 20 acres on a gentle men's farm afforded us space and privacy to raise our dogs and our horses in a peaceful, private and safe setting.
As a small child, my parents were a heavy influence on bringing dogs into my life. How to treat them right with Love, Kindness and the Responsibility as they were one of God's creatures. It taught us a lot that carried over into adulthood as one of many life's lessons. I am grateful for those opportunities every day.
We have been involved in dog shows and are breeders of the Shetland Sheepdog since 1995. Also Breeders of Multiple Titled Best in Show and Best In Show Specialty Winners, We have always been known for Our Bi-Blacks and Bi-Blues through out the years. Also known for having the first ever Bi-Black Sheltie to ever go all breed Best In Show in AKC history at the Lackawanna Kennel Club in Lackawanna, Pennsylvania! Multiple BISS, BIS AM/CAN/UKC/International CH. Brookfield the Coal Miner CGC . Coal was a once in a Life time dog and his memory was always be kept alive along with his full litter mate "Rocky" AM/CAN/UKC Ch M&M's Rocky Thunder of Brookfield , CGC .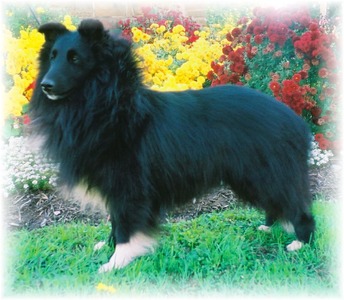 AM/CAN/UKC CH M&M's Rocky Thunder of Brookfield, CGC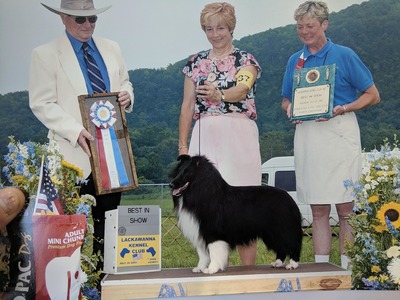 Mult BISS BIS AM/CAN/UKC/International CH Brookfield The Coal Miner, CGC
We also are breeders of "The South African Boerboel", also known as an "African Mastiff" breed and are also members of The AKC National Parent Club of The South African Boerboel. We take these breeds seriously and do right by them both as family members and as represenatives and ambassadors of the breeds!
The love, care, and health of our dogs come first and foremost as they are our pets and are our fur kids first! We do health testing on our dogs and after a long and carefully thought out process in consideration for what would be for the betterment of the breed. This is done to carry on our bloodlines as well.
We hope you enjoy our dogs on our site just as much as we love them!
Take a Moment to Embrace The Ones You Love Every Day!
Warmly,
The Elliott-Kiesznowski / Meacham Family